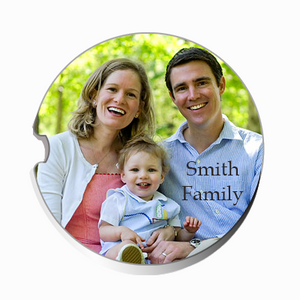 Personalized car coasters are a fun and practical way to add a personal touch to your vehicle. These small, circular coasters are designed to fit perfectly into the cup holders of your car, providing a protective barrier between your drink and the surface of your car.
Customizable car coasters can feature your favorite photos, designs, or even your name or initials. They are made of a high-quality absorbent material that can soak up spills and prevent condensation from damaging your car's interior. Personalized car coasters are a great way to express your personality and add a pop of color to your car's interior.
Not only do personalized car coasters look great, but they also serve a practical purpose. They can protect your cup holders from scratches, stains, and damage caused by spills, which can be especially helpful if you enjoy taking long road trips or have children in your car. Personalized car coasters are also easy to clean, simply remove them from your cup holders and wipe them down with a damp cloth.
If you're looking for a unique and practical way to personalize your car, consider getting customized car coasters. They make great gifts for friends and family members who love their cars and can be used in any vehicle with cup holders, from cars and trucks to boats and RVs. With a wide variety of designs and options available, you're sure to find the perfect personalized car coasters to suit your style and needs.