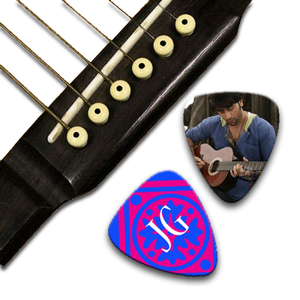 Guitar Picks are the perfect gift for any guitar player. Make the picks more special by personalizing them.
Guitar picks are made of a premium grade celluloid material with a .96mm gauge for a high quality guitar pick.
Our guitar picks have a classic 351 shape.
Approx 1"x 1.18"
Looking for a way to take your guitar playing to the next level? Our personalized guitar picks are just what you need! Made from high-quality materials and customized to your liking , these picks are the ultimate addition to your music gear collection.
Each pick is crafted from premium-grade celluloid, ensuring a strong and durable design that won't let you down. With a thickness of 0.96mm, they offer the perfect combination of flexibility and stiffness, making them ideal for a wide range of playing styles.
But what really sets our personalized guitar picks apart is the ability to customize them with your own design or text. Whether you want to add your band's logo, your favorite quote, or a personalized message, we'll make sure your picks look exactly the way you want them to.
Ordering your personalized guitar picks is easy - simply upload your design, select your quantity, and let us take care of the rest. We'll ship your picks right to your doorstep, so you can start playing and showing off your unique style right away.
So if you're looking for a fun and personalized way to elevate your guitar playing, our custom guitar picks are the perfect choice. Order yours today and start rocking out in style!