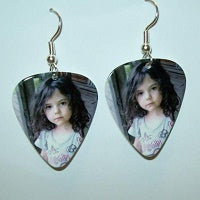 Make a bold statement and show off your love for music with our custom guitar pick earrings. These one-of-a-kind accessories are the perfect way to add a touch of personal style to any outfit.
Crafted from high-quality materials, our guitar pick earrings feature an authentic and durable design. The picks themselves are made from premium-grade celluloid, ensuring a strong and flexible surface that won't crack or break easily. The hooks are made from hypoallergenic stainless steel, which is safe for sensitive skin and won't tarnish over time.
But what really sets our guitar pick earrings apart is the ability to customize them with your own design or text. Whether you want to add your favorite band logo, a personal message, or a unique graphic, we'll make sure your earrings look exactly the way you want them to.
Ordering your custom guitar pick earrings is easy - simply upload your design, select your quantity, and let us take care of the rest. We'll create a stunning pair of earrings that are guaranteed to turn heads and make you stand out from the crowd.
Our custom guitar pick earrings also make a great gift for any music lover in your life. Whether it's for a birthday, holiday, or just because, these earrings are a thoughtful and unique way to show someone you care.
So if you're looking for a fun and personalized way to add some music-inspired style to your wardrobe, our custom guitar pick earrings are the perfect choice. Order yours today and start showing off your unique style!