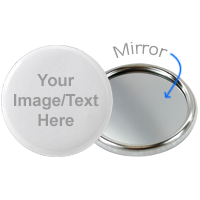 Introducing our Pocket Mirror Button - the perfect accessory for those who want a versatile and stylish way to keep themselves looking their best. With a compact size and convenient button backing, our pocket mirror buttons are a practical and fun addition to any purse
Each pocket mirror button is made from high-quality materials, with a durable metal construction that ensures it will withstand the wear and tear of everyday use. 
What really sets our pocket mirror buttons apart is the ability to personalize them with your own designs or messages. Whether you want to add a fun graphic, a motivational quote, or your own logo, we'll make sure your mirror button looks exactly the way you want it to.
Ordering your custom pocket mirror button is easy - simply upload your design, choose your quantity, and let us take care of the rest. We use high-quality printing technology to ensure your designs come out looking sharp, vibrant, and long-lasting.
Our pocket mirror buttons also make great gifts for any occasion. Whether you're looking for a fun and unique party favor or a practical and stylish gift for a friend, our custom mirror buttons are the perfect choice.
So if you're looking for a versatile and stylish way to keep yourself looking your best, our pocket mirror buttons are the perfect choice. Order yours today and start showing off your unique style in style!
Our mirror buttons easily fits in a pocket or purse. Great for hair styling businesses, weddings, decorating, and give-aways. Full color printing
Mirror buttons are 2.25"  and great for when you need to see your reflection, compact mirror.  Great for bridesmaids gifts.