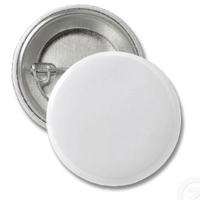 Introducing our 2.25 inch button - a classic accessory that's perfect for expressing your personality, promoting your brand, or supporting your cause. Made from high-quality materials and customizable to your exact specifications, our 2.25 inch buttons are a versatile and eye-catching way to make a statement.
Our buttons are made with a durable metal construction and come with a sturdy pinback to ensure they stay securely in place. The generous size of our 2.25 inch buttons provides ample space for your designs, messages, or graphics to really stand out.
What really sets our buttons apart is the ability to personalize them with your own designs or text. Whether you're looking to create a promotional button for your business, show your support for a political candidate, or just express your creativity, we'll make sure your button looks exactly the way you want it to.
Ordering your custom buttons is easy - simply upload your design, choose your quantity, and let us take care of the rest. We use high-quality printing technology to ensure your designs come out looking sharp, vibrant, and long-lasting.
Our 2.25 inch buttons also make great gifts for any occasion. Whether you're looking to promote your brand, support a cause, or just show someone you care, a customized button is a fun and unique way to do it.
So if you're looking for a classic and eye-catching way to express your personality or promote your brand, our 2.25 inch buttons are the perfect choice. Order yours today and start making a statement in style!
 Buttons are a great way to advertise your business, organization or events.   Our custom buttons feature full color printing and durable pin back.